INJURED IN A TRUCK WRECK?
SEE WHAT OUR CLIENTS HAVE TO SAY
$21.6 Million
Verdict
Tractor-Trailer Wreck - Co-Counsel
$4.2 Million
Settlement
Tractor-Trailer Collision
$1 Million
Settlement for Policy Limits
Tractor-Trailer Collision - Co-Counsel
5
3 months ago
Brandon Yarbrough
My experience could not have been better. The professional staff was accommodating and understanding from day one. They managed to turn a rather unfortunate situation into a painless experience. Would HIGHLY recommend them to anyone in need of representation!
MORE CLIENT REVIEWS
Why hire Gary Martin Hays?
He wrote the #1 best-selling book on truck wreck cases in Georgia - "The Authority on Tractor-Trailer Wreck Claims in Georgia."
He used to represent insurance companies - defending the people that caused the wrecks.
He was voted a "SuperLawyer" by other lawyers in Georgia.
He teaches other lawyers how our law firm handles cases.
Unlike a lot of attorneys you see on TV or hear on the radio, Gary is licensed to practice law in Georgia and lives here.
Gary meets personally with his clients to develop a legal strategy for their claim.
STAND UP TO THE TRUCKING COMPANY
Hire A Trusted Attorney.
Click to Call Now >> 1-800-898-4297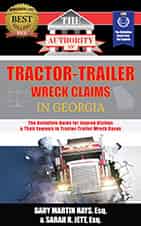 Helping Georgia Families Recover Over 1 Billion Dollars Since 1993.
Gary and his team know how to investigate trucking companies and hold them accountable.
Stay involved with your legal strategy from day one. Gary meets with his clients personally.
Gary has the experience to handle big, tough claims.
Fill out this form and we will call you to discuss your claim.
At the LAW OFFICES OF GARY MARTIN HAYS & ASSOCIATES, P.C., we are experts in personal injury law. We provide three important things for our clients
(1) Legal Protection: We take on the insurance company and their lawyers.
(2) Physical Recovery: We help you get the medical treatment you need - even if you don't have health insurance.
(3) Financial Recovery: We fight to get you all the cash and benefits you deserve.
Call now for your FREE consultation. 1-800-898-4297 We give you our "No Fee Guarantee": We don't get paid unless we get money for you!